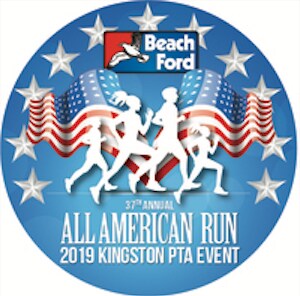 This year is the 37th Annual Beach Ford All American Run! All proceeds from the run go directly to Kingston Elementary to provide support for their cultural and educational programs. The event will be held on October 12th, 2019 and includes a 5K starting at 8am, and a 1-mile run starting at 9:15am. The Beach Ford family has been looking forward to this year's event, and we hope you are too!
Tom Barton commented on their engagement in the event saying, "I'm just so happy that we've been able to help out the kids. I like seeing the students, I like seeing the parents. It reminds you of when you were young and trying to make your way. It's one of the more rewarding experiences. We feel privileged for the opportunity to give back to our community."
Join us in registering online – you can register with early-bird pricing until Sept 20th.
https://kingstonelementarypta.enmotive.com/events/register/beach-ford-all-american-run-a-kingston-pta-event